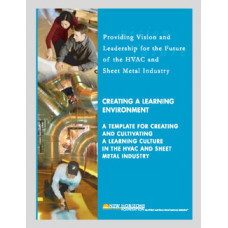 $75.00
Summary
This report describes the research into creating and fostering a learning environment in the heating, ventilation, and air conditioning (HVAC) and sheet metal industry. The report defines a learning culture for HVAC and sheet metal contractors, and to explain how HVAC and sheet metal contractor organizations can create the environment to cultivate a learning culture. A competency scorecard and an example of a web-based company learning tool are included in the report.

As the report recommends there are numerous reasons for HVAC and sheet metal contractors to invest in a learning culture, including:
Cultivation of the company's most important asset – its employees and
Enhancing company performance at delivering high standards of products and labor, consequently increasing profitability and repeat business.

Published: 2008
Size: 42 pages
Table of Contents: Download
Executive Summary: Download