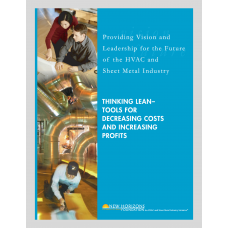 $75.00
Summary
This project updates research conducted in 2005. The need for the update was driven by the increasing complexity of the heating, ventilation, and air conditioning (HVAC) and sheet metal construction industry. Advancements in technology, financial pressure, and customers seeking greater involvement and value from their projects are the main contributors to this complexity.
A goal was established to identify the lean principles and techniques used successfully in other industries that could be, and in some case were, easily implemented in construction. To accomplish this, the project concentrated on identifying the lean principles used successfully in manufacturing and service industries; defining how "lean" applies in the HVAC and sheet metal construction industry; determining which lean techniques were most applicable and useful in the construction industry; and identifying how HVAC and sheet metal construction companies were already successfully applying lean principles.
The research concluded that the lean principles that have led other industries to higher profitability and lower costs are easily applicable to the HVAC and sheet metal industry. Those contractors that learn how to use lean effectively will have a definite competitive advantage in their productivity and in meeting customer needs and expectations.
Published: 2008
Size: 52 pages