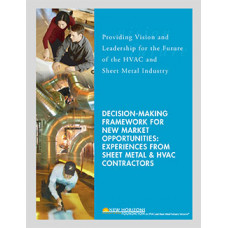 $75.00
Summary
Most company leaders make market entry decisions once or twice in their careers; not enough to build experience. This 19-page publication adds the real experiences of others to understand the pitfalls and risks associated with a new market decision.
This document relates to the 10-Step Decision Making Framework for New Market Opportunities. In fact, reviewing the case studies will be invaluable during step four of the 10-Step Process: Review experiences of others.
The experiences are presented as follows:
Add HVAC Service
Add a Trade
Geographical Expansion
New Market Sector
New Process
To effectively use the 10-Step Process, this publication is a must.
For more information on this project, visit http://ciri-riskmitigation.org/.
Published: 2017
Size: 19 pages