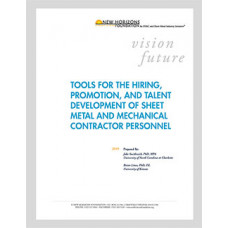 $25.00
Summary
Research shows that more than half the variability (and uncertainty) in hiring and promotion decisions can be reduced by considering factors not revealed in typical resumes and interviews.
The New Horizons Foundation partnered with lead researchers at the University of North Carolina at Charlotte and the University of Kansas to understand how personality and aptitude assessments are being used successfully in the construction industry.
Interviews with SMACNA members and general contractors found that personality and aptitude assessments enhance the hiring process and are useful in internal talent development. This quick and valuable read – with an extensive personality and aptitude assessment resource appendix – is a must for those who are not using assessment tools in their hiring and development practices. For those that are using aptitude and personality assessment tools, this is a nice check against what's out there and what you may be missing.
Published: 2019
Size: 27 pages