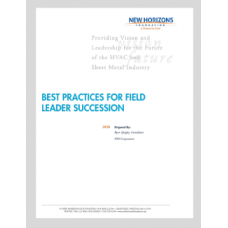 $75.00
Summary
FMI, a construction industry consulting firm, expects that 20% of current field managers will turnover by 2022 (FMI, 2017). This surpasses the expected level of turnover of all other positions in the construction industry.
Field Leader Succession is the process of developing and transitioning new leaders so they can replace their predecessors at the foreman, general foreman, or superintendent level.
Companies plan executive management succession seriously and invest heavily in talent identification, development, and transition. The same due diligence should guide field leadership succession. This latest white paper focuses on best practices in field leadership transition from one generation to the next.