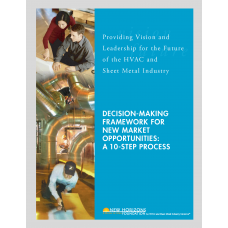 $100.00
Summary
The 27-page framework includes a ten-step process which is based on experiences of other contractors and will increase a market entry decision's likelihood of success. The report addresses three key phases in the market entry decision-making framework: (1) definition, (2) analysis, and (3) planning.
A clear and concise flow process walks the reader through the 10 steps with an emphasis on several "go or no go" conclusions in the progression. The publication includes a simplified strategic planning guide as well.
This streamlined process assists in identifying and analyzing a market opportunity which for many will be the chance to grow, expand and thrive as new technologies and customer needs evolve in coming years.
(This PDF includes fillable fields that you can add personalized information to as you proceed through the process. Once filled out, it can be saved to your computer and/or printed.)
For more information on this project, visit http://ciri-riskmitigation.org/.
Published: 2017
Size: 27 pages