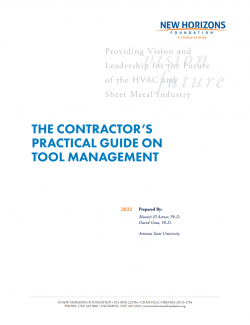 Researcher(s)
Mounir El Asmar, Ph.D.
David Grau, Ph.D.
Arizona State University
Preview
Topics
Summary
Tools are critical to the everyday tasks of any sheet metal and HVAC contracting firm. They are responsible for significant direct project costs in the order of tens to hundreds of thousands of dollars annually. Such costs are exacerbated when tools are poorly managed, which, for example, can lead to inadequate use of tools, safety incidents, idle crews, or low labor productivity ratios. Thus, tool management is an essential capability influencing project profits and the contractor's success.