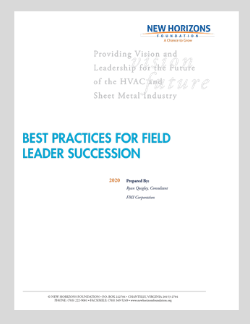 Researcher(s)
Ryan Quigley, Consultant, FMI Corporation
Topics
Summary
Succession planning is important and most construction companies have a succession plan and process for the executive team. However, field leader succession planning has not been given the same level of focus.
This is an urgent topic, as the leadership in the field are the closest touchpoint to customers and are a driver of the success of any construction project. Planning effectively for field succession could arguably have the single biggest impact on long-term company reputation, client satisfaction, and repeat clients. No construction company will be able to endure long-term without a plan to successfully prepare the next generation of leaders at the field level.
This study investigates the problems construction companies face when planning for field leader succession, and identifies the best practices for a successful succession plan.
Field leader succession research methodology
The study was conducted by collecting survey data from over 170 respondents and 32 in-depth interviews across over 70 companies. The common challenges were identified and analyzed in the creation of this whitepaper.
This study identifies the roadblocks most organizations face when planning for the next generation of leaders, and identifies a list of industry-specific recommendations for how to overcome the challenges and implement a successful succession process.
Current challenges within the field of field leader succession planning
According to field research, 28% of the field leaders will retire within the next 5 years, which only sets more pressure on getting the next generation up for success. However, this has often not been a priority due to many challenges.
Some main challenges for the field leader succession have been identified,
Time: It's a process that takes time, and requires planning and execution of development plans that can exceed the day-to-day work.
Money: Training the new leaders is an investment.
Respect: Many typing leaders can find it challenging to gain the respect of the more seasoned leaders.
Adjustment: Leadership comes with new responsibilities, accountability, and demands.
This field leader succession best practices report outlines:
Key steps in how to identify future field leaders

This includes how to communicate to create a team culture with a growth mindset, defining the attributes your team needs in a leader and the importance of creating new career pathways.
How to create a strong bench of field leaders

This phase includes practical steps you can take to create development programs, and how to train your future leaders while in their current jobs, and how to make this part of the job.
How to transition your future leaders into their new roles and responsibilities.

This section outlines the importance of mentorships and fostering the new relationships that occur within the organization as the new leaders step up.
By the end of this report, you'll have the tools you need to evaluate, plan and restructure how your organization views internal growth and the next generation of field leaders.