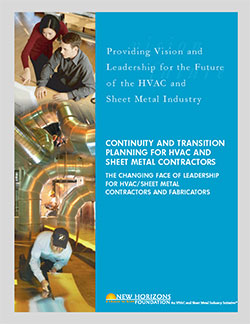 Researcher(s)
John Hughes
Vice President
FMI Corporation
5171 Glenwood Ave., Suite 200
Raleigh, NC 27612
Tel: (919) 787-8400
Fax: (919) 785-9320
Email: jhughes@fminet.com
Preview
Topics
Summary
The leadership and supporters of the New Horizons Foundation have produced three comprehensive research reports concerning the importance of business continuity planning and execution. The three previous reports summarized in this report include:
Exit Strategies for HVAC /Sheet Metal Contractors: Strategies for Equity and Ownership Transfer
Mentoring and Coaching Practices: Developing the Next Generation
Leadership Selection Practices for HVAC and Sheet Metal Contractors and Fabricators.
This report is a road map to navigate these previous reports for firms seeking to provide continuity in the transition of their firms to the next generation of owners/leaders.
---
You Might Also Be Interested In: