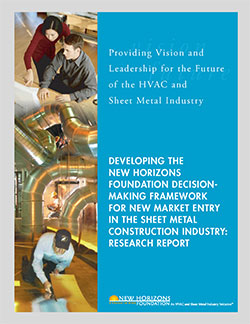 Researcher(s)
Mounir El Asmar, Ph.D.
Jera Sullivan, Ph.D.
Kenneth Sullivan, Ph.D.
Arizona State University
Topics
Summary
Are you seeking to conquer new construction markets? Backed by our groundbreaking research report, the Decision-Making Framework for New Market Opportunities is specifically designed to help the sheet metal construction industry succeed in new markets with confidence
Unlock the Potential of New Construction Markets
Entering new construction markets can be a daunting task, but with our comprehensive framework, you'll gain a strategic advantage in evaluating and seizing new opportunities. Our research report provides valuable insights and a step-by-step approach to ensure your success when venturing into uncharted territory.
Streamlined Decision-Making Process
Gone are the days of making uninformed decisions based on guesswork. Our framework empowers you with a systematic approach to assess, analyze, and evaluate new construction markets. By leveraging our proven methodologies, you can confidently navigate the complexities of market entry and minimize risks.
Tailored to the Construction Industry
At the New Horizons Foundation, we understand the unique challenges faced by construction companies. That's why our decision-making framework is specifically tailored to the sheet metal construction industry. It takes into account the intricacies of your business, allowing you to make informed choices aligned with your goals and objectives.
Benefits of Our Research Report:
Comprehensive Insights: Our research report offers a deep dive into the dynamics of new construction markets, providing you with a wealth of knowledge and understanding.
Step-by-Step Approach: Our systematic process guides you through each stage of the decision-making journey, ensuring you cover all crucial aspects before entering a new market.
Minimized Risks: By following our framework, you'll make data-driven decisions, mitigating potential risks and enhancing your chances of success in new construction markets.
Strategic Advantage: Gain an edge over your competitors by adopting a well-defined market entry strategy, allowing you to capitalize on untapped opportunities.
Embrace the Future of Construction Market Entry
The New Horizons Foundation Decision-Making Framework is revolutionizing the way construction companies approach new market entry. Join the ranks of industry leaders who have already reaped the benefits of our research and methodologies.
Whether you're a construction company CEO, a senior market development executive, or a sales leader, our framework will equip you with the tools and knowledge needed to conquer new construction markets. Seize the opportunity to expand your horizons and unlock success in new construction markets today.
For more information on this project, visit http://ciri-riskmitigation.org/.