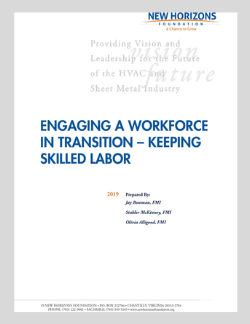 Researcher(s)
Jay Bowman, FMI
Stahler McKinney, FMI
Olivia Alligood, FMI
Topics
Summary
With voluntary turnover at an all-time high, construction-related firms need to be prepared for the generational transitions occurring in the construction workforce. The best way to retain talent on your construction teams and prepare for the transition ahead is effective employee engagement. Highly engaged employees are loyal employees and less likely to leave.
The New Horizons Foundation, in partnership with FMI, conducted a survey and interviews exploring how construction-related firms planned to fight voluntary turnover and found five key themes:
Most contractors are unprepared for the accelerating generational transition. New talent is not entering the industry at a rate that backfills the exiting or retiring talent.
Leadership and project execution are the skills most needed. Leadership and work execution are paramount to contractors' ability to deliver projects, particularly given the increasing complexity of the work facing the industry.
Reducing voluntary turnover is critical in maintaining organizational consistency. Voluntary turnover is very costly and disruptive. It increases training costs, restricts the ability to grow business, and lowers productivity.
Engaging employees is the best way to reduce voluntary turnover. Employee engagement creates loyal employees, which in turn, promotes retention, improves organizational performance, and fosters customer loyalty.
Effective employee engagement means clearly defining roles and responsibilities, offering career development and an effective learning environment, and giving consistent feedback. Although construction workforce engagement is straightforward, it does take work. Consistency is the key to keeping skilled construction workers and cutting down on voluntary turnover.
This short white paper outlines the steps necessary to create a highly engaged workforce that will sustain your organization and manage the generational transitions in construction. It will require good planning and constant nurturing. Creating a highly engaged workforce is the best way to minimize voluntary turnover.