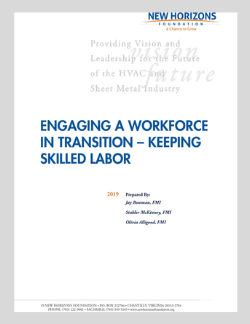 Researcher(s)
Jay Bowman, FMI
Stahler McKinney, FMI
Olivia Alligood, FMI
Topics
Summary
The construction workforce is in the middle of a significant demographic shift. Yet few contractors seem prepared for the transition ahead. This poses great risks, chief among them the viability of the industry.
The New Horizons Foundation, in partnership with FMI, conducted a survey and interviews exploring how construction-related firms are preparing for the generational transition, what they think are the most needed skills, and how they plan to ensure a successful outcome. The research revealed five key themes:
Most contractors are unprepared for the accelerating generational transition
Leadership and project execution are the skills most needed
Reducing voluntary turnover is critical in maintaining organizational consistency
Engaging employees is the best way to reduce voluntary turnover
Engagement means clearly defining roles and responsibilities, offering career development and an effective learning environment, and giving consistent feedback
This short white paper outlines the steps necessary to create a highly engaged workforce that will sustain your organization and manage the transition from one generation to the next.