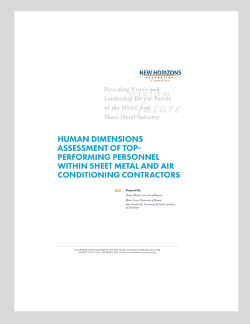 Researcher(s)
Omar Maali, University of Kansas
Brian Lines, University of Kansas
Jake Smithwick, University of North Carolina
at Charlotte
Topics
Summary
Understanding the human dimensions of our construction workforce helps us build the best construction teams and hire the best workers, both now and in the future.
This study identifies key personality and behavioral traits of top-performers in key job roles within the sheet metal and air conditioning industry as well as construction project managers and field leaders overall.
When staffing for construction projects, it is critical for contractors to attract, develop, and retain the best talent in today's hyper-competitive job environment. Even if you don't use formal assessments in your operations, using the valuable information in this study can be one of the best ways to find construction employees and evaluate candidates against "best-in-class" characteristics.
The results of this study can also be used for a variety of talent development purposes, such as: performance evaluations, mentoring, job transitions, and career advancements.
All with a bottom line goal of help you put together the best construction workforce teams so you can be successful.