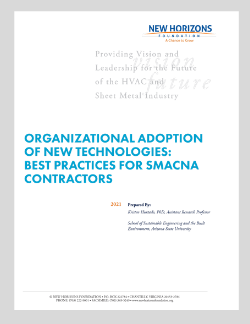 Researcher(s)
Kristen Hurtado, PhD, Assistant Research Professor, School of Sustainable Engineering and the Built Environment, Arizona State University
Topics
Summary
Implementing change and making new system software work can be a formidable challenge in the construction industry. But, with our comprehensive guide, you'll gain a strategic advantage in harnessing the full potential of construction technology. Our expertise and best practices will empower you to seamlessly integrate new technologies into your operations and achieve tangible results.
Navigate Technological Change with Ease
Resistance to change can hinder the progress of even the most promising technological advancements. Our guide provides practical strategies and proven methods to overcome resistance and foster a culture of acceptance within your organization. By effectively managing technological change, you'll enhance productivity, streamline processes, and stay ahead in a competitive industry.
Tailored to Construction Industry Leaders
At New Horizons Foundation, we understand the unique needs of manufacturing and field project leaders in the construction industry. Our guide is specifically crafted for SMACNA contractors, addressing their challenges and offering tailored solutions to implement and manage construction technology effectively.
Benefits of Our Best Practices:
Expert Insights: Gain valuable knowledge and industry insights to navigate the complexities of construction technology implementation.
Overcoming Resistance: Learn proven strategies to overcome resistance to change and foster a culture of technological acceptance within your organization.
Streamlined Operations: Optimize your processes, enhance productivity, and achieve operational excellence through effective technology management.
Competitive Advantage: Stay ahead of the curve by leveraging cutting-edge construction technology, ensuring your company remains at the forefront of industry innovation.
Embrace the Future of Construction Technology
The New Horizons Foundation's Best Practices for SMACNA Contractors is revolutionizing the way construction companies implement and manage technology. Join the ranks of industry leaders who have successfully embraced change and reaped the benefits of improved efficiency and profitability.
Our guide is your roadmap to overcoming resistance to technological change and implementing effective technology management. Don't let technological barriers hold you back—unleash the potential of construction technology today.
Download our guide now!