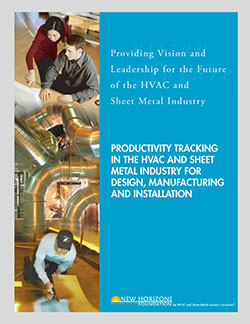 Researcher(s)
Michael McLin
Maxim Consulting Group, LLC
Topics
Summary
Tracking productivity is key to profitability. Yet tracking productivity has been a challenge for HVAC/sheet metal contractors who manage a high degree of off-site work.
The issue is more challenging because there have been few industry standards for tracking productivity for all contractor operations. As a result, contractors have not had access to clear best practices in this area.
Traditionally, contractors limited productivity tracking to the field – the most intensive and riskiest phase of work, with labor costs accounting for 30% to 70% of project cost. But contractors now recognize productivity tracking should encompass the entire life cycle, from initial detailing through fabrication and installation.
This white paper:
Gives a full overview of the current practices and challenges of productivity tracking in the industry
Serves as a road map for applying productivity tracking to each phase – detailing, fabrication, and installation
Explains how to do productivity tracking for each phase using a clear, structured 5-step process
The 5 appendices of the publication address valuable topics, including cost coding and tracking for smaller contractors and the current state of productivity in the sheet metal industry.
Whether you're new to the process of productivity tracking or you want to refine an existing program, this paper provides valuable insights.