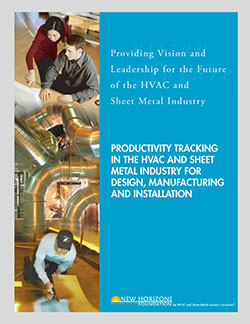 Researcher(s)
Michael McLin
Maxim Consulting Group, LLC
Topics
Summary
Tracking productivity in specialty construction is key to project profitability. Yet it has been an ongoing challenge for HVAC/sheet metal contractors who manage a high degree of off-site work. To complicate matters, few industry standards exist for tracking construction labor productivity, leading to a lack of clear best practices for contractors in improving construction productivity and ultimately, the bottom line.
Traditionally contractors only measured construction productivity in the field – the most intensive and riskiest phase of work, with labor costs accounting for 30% to 70% of project cost. But contractors now recognize the importance of maintaining a full life-cycle perspective of tracking construction costs and operations. Construction productivity tracking must encompass the entire project, from initial detailing VDC through fabrication/manufacturing and installation. After all, as the saying goes, you can't improve what you don't measure.
Companies that accurately analyze their construction workforce productivity and react appropriately to their trending results are generally more profitable than those that don't measure productivity. By using a consistent cost code structure to track productivity in specialty construction, companies can identify problems earlier, minimize the impacts, and optimize their work flows.
The steps for successfully tracking construction productivity are simple and the same throughout the design, manufacturing, and installation phases. They include:
Identify a simple list of activities to be tracked (less is more).
Use the estimate to set up a standard cost code structure and a budget for tracking activities.
Identify a standard unit of measure for reporting progress that best fits with each cost code.
Apply time to those cost codes and report progress using the established units of measure to track and trend performance.
Use the measured performance for benchmarking.
This white paper serves as a roadmap and establishes an effective methodology to track field productivity in each phase of construction, ultimately driving process improvements and increasing profitability. It also includes five appendices which address cost coding and tracking for smaller contractors as well as the current state of productivity in the sheet metal industry. Whether you're new to the process of construction productivity tracking or want to improve an existing program, this paper provides valuable insights to enhance visibility for your field and office teams.