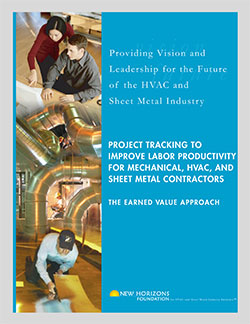 Researcher(s)
Awad S. Hanna, Ph.D., P.E.
Professor, Civil and Environmental Engineering
University of Wisconsin Madison
2314 Engineering Hall
1415 Engineering Drive
Madison, WI 53706
Tel: (608) 263-8903
Fax: (608) 265-9860
Email: hanna@engr.wisc.edu
Topics
Summary
This report includes a cost and schedule control system to measure, track, and forecast cost, percent complete, and completion date. The report covers:
Activity descriptions and how to develop a work breakdown structure,
Estimated cost/man-hours,
Earned cost/man-hours to-date,
Actual cost/man-hours to-date,
Estimated remaining cost/man-hours,
Estimated units/activities,
Installed units/completed activities,
Estimated remaining units/activities,
Productivity (actual vs. estimated), and
Percent complete.
Using the Earned Value System, this report provides an early warning system to identify deviations the cost or schedule as soon as possible so that corrective action may be taken. The  system uses manpower loading and s-curves to track differences between actual and planned values and provides guidance on how to determine when corrective action is needed.
The Earned Value spreadsheet referenced throughout the report is available for download here.