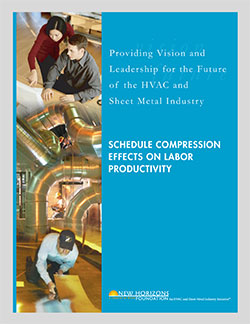 Researcher(s)
Awad S. Hanna, Ph.D., P.E.
Professor and Chair of Construction
Engineering and Management
Program Department of Civil
Environmental Engineering
University of Wisconsin Madison
2314 Engineering Hall
1415 Engineering Drive
Madison, WI 53706
Tel: (608) 263-8903
Fax: (608) 265-9860
Email: hanna@engr.wisc.edu
Topics
Summary
Understanding how schedule compression affects labor productivity in the construction industry is crucial for increasing project performance, avoiding disputes, and maintaining sound financial status of one's company.
During a typical construction project, a contractor may find that the time originally available has been severely reduced. To finish the project by the completion date, the contractor is forced to "compress the schedule."
The most common way to compress the schedule is either to work longer hours (overtime), add more workers (overmanning), or implement multiple shifts (shift work). This poses a problem to contractors because it negatively impacts labor productivity and decreases profits.
This study shows how schedule compression affects sheet metal contractors' labor productivity, and quantifies the effects of overtime, shift work, and overmanning. Models that quantify the impact of each on the labor productivity of sheet metal contractors are presented. Recommendations for the contractor are included.