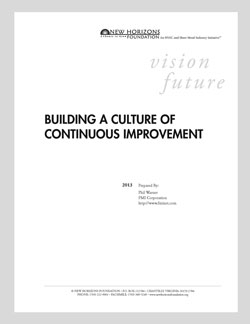 Researcher(s)
Topics
Summary
Continuous improvement, as used in this paper and in the industry, is the name of an approach to improvement known and used around the world for decades. It applies to processes in the office, project or anywhere within the organization. The major components of continuous improvement are often referred to as an acronym, DMAIC:
D

efine the problem

M

easure what needs to be measured to define, track and improve the problem

A

nalyze the data

Find the core cause(s) of the problem
Diagram the process
Model the value stream
I

mprove the process.

C

ontrol the process and measure results to assure the improvement is working as planned or discover if it needs further attention.
The paper using case study references addresses the implementation of continuous improvement in an easily understood format.