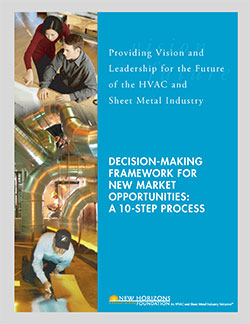 Researcher(s)
Mounir El Asmar, Ph.D.
Jera Sullivan, Ph.D.
Kenneth Sullivan, Ph.D.
Arizona State University
Topics
Summary
As HVAC and sheet metal contractors, you understand that market opportunities can arise in various ways. Whether it's a request from a customer to expand geographically, an employee showcasing specific skills, or the emergence of a new market in need of your services, seizing these opportunities is crucial for growth.
The New Horizons Foundation presents our groundbreaking decision-making framework and guide designed specifically for new market entry in the construction industry.
Master the Art of Decision Making
Entering new construction markets can be a complex endeavor, but with our decision-making framework, you'll gain a strategic advantage. We've developed a decision-making framework based on insights from over 200 contractors in the industry. With our comprehensive framework, you can confidently approach new construction markets, ensuring that your decisions are well-informed and increase the likelihood of success. By leveraging the collective wisdom and experiences of your peers, you'll be equipped with a proven process tailored specifically for HVAC and sheet metal contractors.
Seize New Construction Market Entry
Tailored specifically for HVAC, sheet metal, and specialty contractors, our guide provides a 10-step process to navigate the challenges presented by new market opportunities and equips you with the tools needed to make informed decisions and seize untapped market potential.
Benefits of Our Decision-Making Framework:
Comprehensive Guide: Our 10-step process serves as a definitive guide to entering new construction markets, providing a roadmap for success in your industry.
Strategic Advantage: Gain a competitive edge by leveraging our framework to make informed decisions that align with your business goals and objectives.
Industry Relevance: Designed for HVAC, sheet metal, and specialty contractors, our framework addresses the unique challenges and opportunities faced by your sector.
Empowered Decision-Making: Make confident choices backed by data and a systematic approach, reducing risks and maximizing your chances of success in new construction markets.
Embrace the Future of Construction Market Entry
The New Horizons Foundation's decision-making framework is changing the way HVAC, sheet metal, and specialty contractors approach new market opportunities. Our guide will help you to navigate new construction markets with confidence. Learn more about our decision-making framework and take the first step towards thriving in new construction markets.
Download the Guide now!
(The PDF of this report includes fillable fields that you can add personalized information to as you proceed through the process. Once completed, it can be saved and/or printed.)
Related Resources
This document relates to the Decision-Making Framework .
For more information on this project, visit http://ciri-riskmitigation.org/.