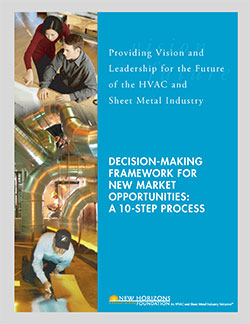 Researcher(s)
Mounir El Asmar, Ph.D.
Jera Sullivan, Ph.D.
Kenneth Sullivan, Ph.D.
Arizona State University
Topics
Summary

Are you ready to add a new line of work or a new market for your existing line of work?
Market opportunities can present themselves in a variety of ways:
a customer could ask your company to expand geographically;
an employee might offer up specific skills;
or a new market in need of service can have a strong pull.
Are you considering adding a new line of work or a new market for your existing line of work? This framework is designed to help.
Growth through market entry provides the opportunity to:
develop and motivate personnel,
expand the brand,
better serve customers, and
mitigate market risks.
Unfortunately, statistics show only one out of five market entry decisions are successful. One of the reasons is that most leaders make these types of market entry decisions only once or twice in their careers; not enough to build experience to identify all the major risks.
Although a standardized decision-making process greatly improves the likelihood of a successful market entry, a survey of sheet metal and HVAC contractors indicates only 6% of contractors have a formal process in place.
Use this simple framework to organize your decision process and learn from the experiences of over 200 sheet metal and HVAC contractors and increase the probability of success.
(The PDF of this report includes fillable fields that you can add personalized information to as you proceed through the process. Once completed, it can be saved and/or printed.)
For more information on this project, visit http://ciri-riskmitigation.org/.