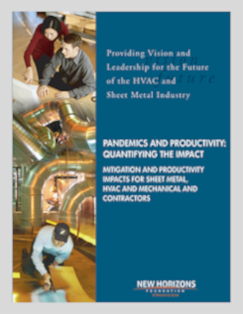 Researcher(s)
Michael McLin
Dan Doyon
Brian Lightner
Maxim Consulting Group
Preview
Topics
Summary
Register to view the Webcast on Demand.
The New Horizons Foundation and ELECTRI International, the National Electrical Contractors Association's foundation, commissioned this report assessing the productivity impact of the coronavirus (COVID-19) across the sheet metal and HVAC industry.
Before these findings were issued, no specific resource existed to help contractors quantify the cost impacts of lost productivity working under pandemic-driven protocols.
Data collection focused on two areas: mitigation tracking and productivity benchmarking. Key findings include:
Based on data collected, 8.7% of hours available on projects are lost due to mitigation requirements. These include personal protective equipment management, cleaning and disinfection, access rules, and extra administration time.
There is a 9.2% average productivity impact — time lost in installation labor — and an 8.7% mitigation impact on contractor productivity as a result of the pandemic, resulting in 17.9% productivity impact.
In addition, the report includes a roadmap to help members adapt to the new industry landscape. Companies with pandemic mitigation processes in place saw lower productivity losses.
This report also includes a new change order calculator spreadsheet to help determine the impact amounts. Download the Change Order Calculator Tool . (Note: This file will download as an Excel Spreadsheet. The download will show in most browsers in the bottom left corner.)